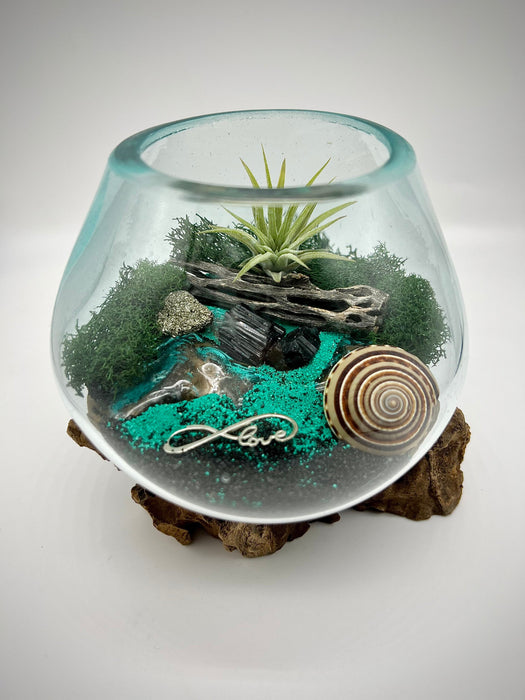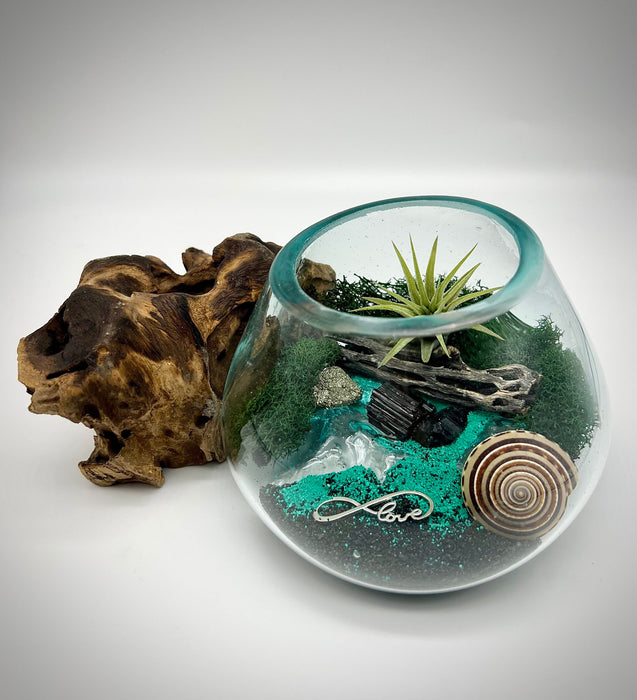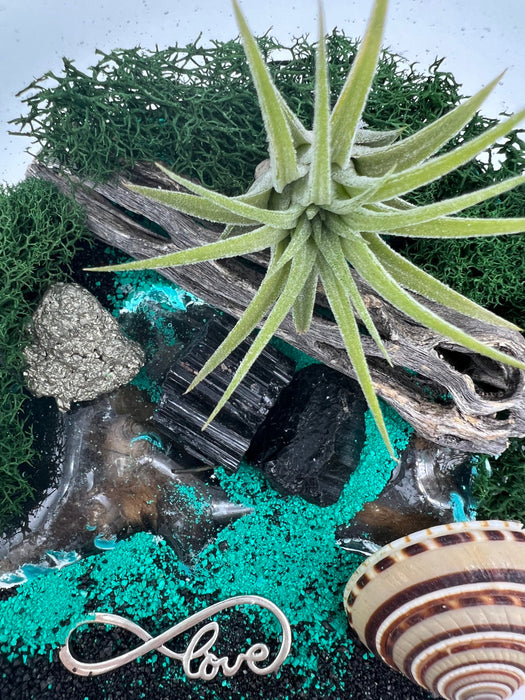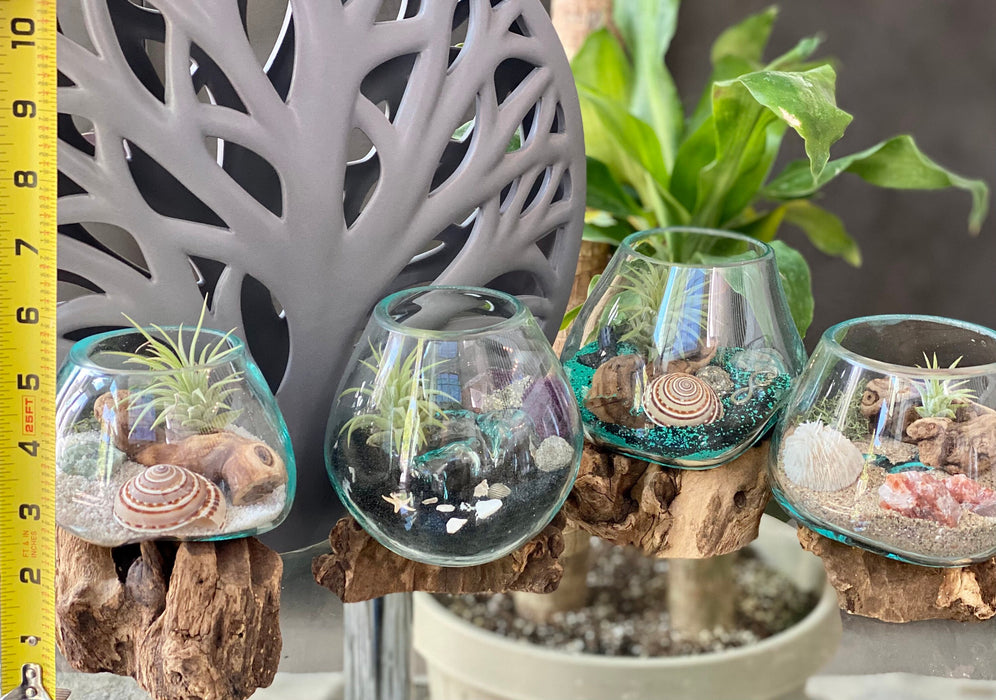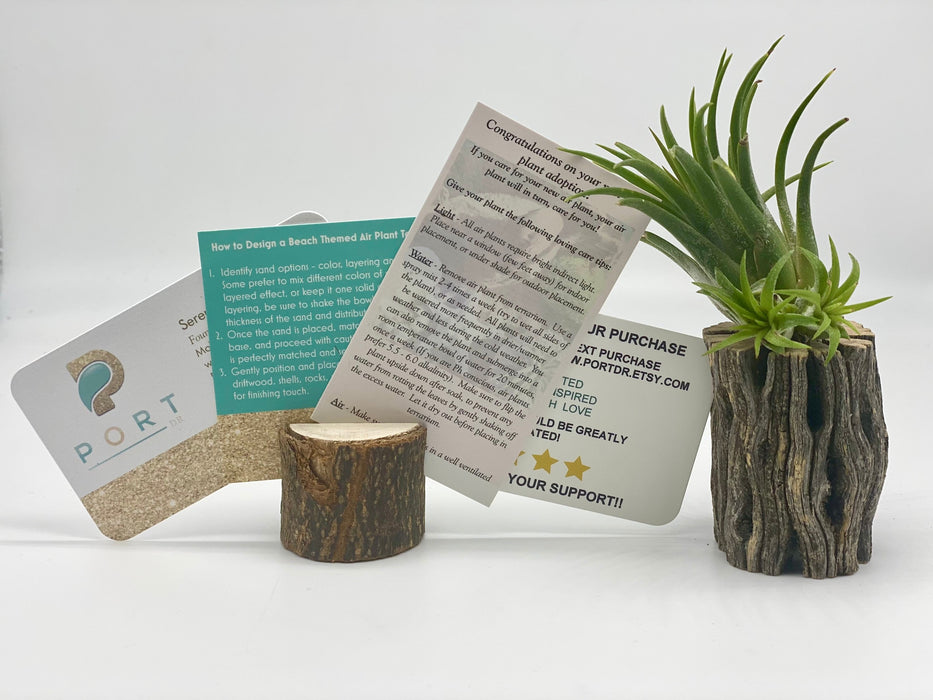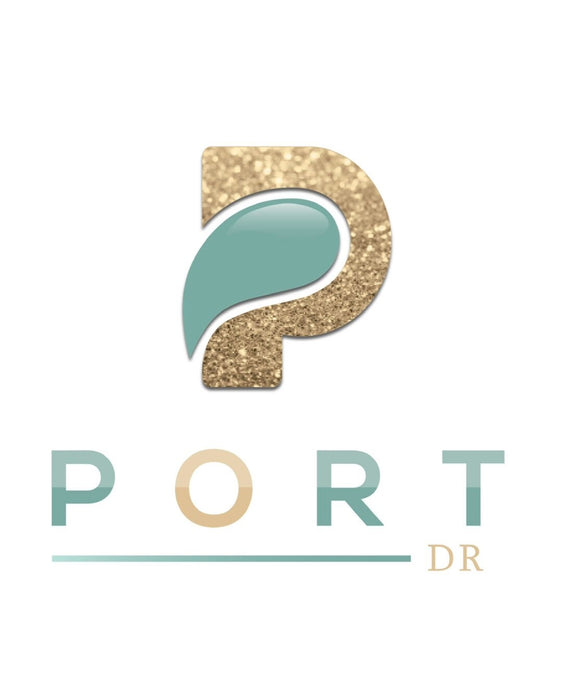 Beachy Air Plant Terrarium Kit, Sea Scape Design with Hand-Blown Glass & Natural Wood Base, Seashell Table Centerpiece, Coastal Home Decor
by Port Dr
"Mesmerized by Love" Air Plant DIY Terrarium
Add a touch of coastal charm to your space with our Beachy Air Plant Terrarium Kit. Featuring a hand-blown glass vessel set atop a natural wood base, this sea-inspired display captures the beauty of beach life. Complete with seashells, sand, and a low-maintenance air plant, this terrarium makes for a captivating table centerpiece or a heartfelt gift for a beach lover. Experience the calming beauty of the seaside all year round with this unique and artful addition to your home décor.
Hand blown glass melted over gamal wood, custom made by Bali artisans & designed by Port Dr.
Each display is unique and one of a kind, no two are the same.
TERRARIUM KIT INCLUDES:
1 Hand blown glass melted over gamal wood set
1 Air plant - Shape and size vary
1 Small piece of driftwood - shapes and size may vary
1 Sundial shell
1 Mini Pyrite aka Fools Gold
1 Love infinity charm
2 tourmaline mini rocks
Moss - Green
Sand - Black and turquoise-green
Assembly and care instruction card
SPECIFICATIONS:
• Approximate Opening Diameter: 2-3"
• Approximate Size: 6wx6h" (Width and height may vary between 1-2 inches)
DISCLAIMER:
Each glass and wood piece vary in shape. The display shown, is one of many variations we carry in stock. Bubbles and/or ripples, and minor imperfections are a normal result of the hand blown glass process.
HOW TO:
https://youtu.be/bzIE5NzQCi8
100% Handcrafted
100% Nature Inspired
100% Made with Love
For other designs, please go to www.portdr.etsy.com